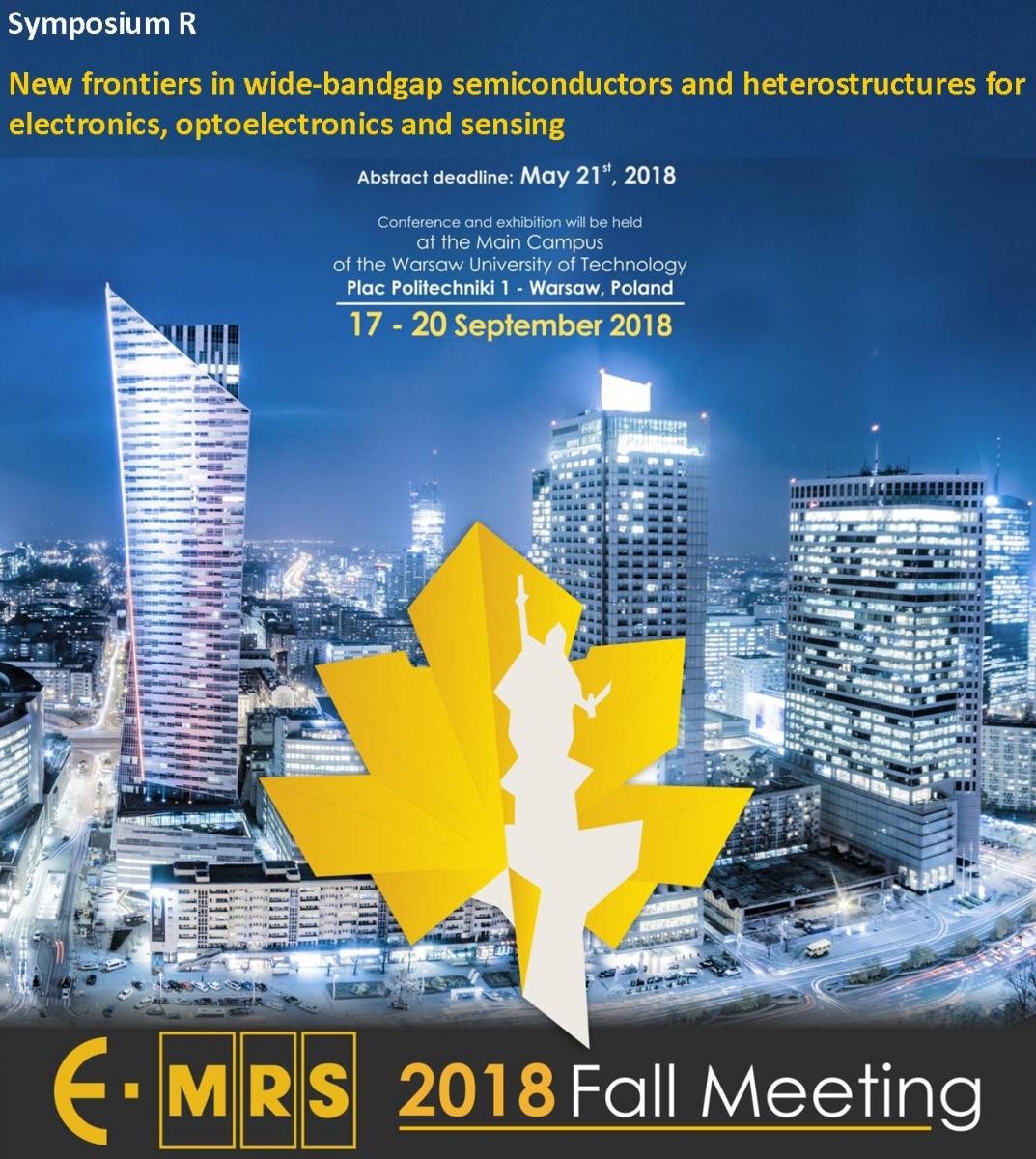 The E-MRS 2018 Fall Meeting will be held at the Main Campus of the Warsaw University of Technology - Plac Politechniki 1- Warsaw, Poland, on 17-20 September 2018.
The conference will include 22 parallel symposia and one plenary session.
CNR-IMM will be co-organizer of the Symposium R entitled "New frontiers in wide-bandgap semiconductors and heterostructures for electronics, optoelectronics and sensing".
The symposium will be will serve as a forum for experts from academia and industry to discuss the new frontiers and applications of wide bandgap materials.
Besides the consolidated SiC and GaN technologies, the symposium will focus also on future WBG materials (e.g., Ga2O3, ZnO, diamond), nanostructures (e.g., nanowires and nanorods) and novel 2D/3D heterojunctions formed by the integration of graphene or other 2D materials with WBG semiconductors.
The deadline for abstract submission is May 21st, 2018. To submit your abstract, click here.
The symposium proceedings will be published on Materials Science in Semiconductors Processing.
Hot topics to be covered by the symposium:
SiC homo- and hetero-epitaxy
SiC device physics (MOS interfaces, contacts, doping by ion implantation, reliability...)
III-N homo- and hetero-epitaxy (nucleation layer, interface control,...)
Bulk GaN growth and device processing
GaN based HEMTs technology (contacts, dielectrics, approaches to normally off transistors, ...)
High voltage Schottky diodes on GaN
III-Nitrides for optoelectronics, photovoltaics and power electronics
ZnO for electronics and sensing
Ga2O3 growth and devices processing
Thermal management in GaN and oxide devices
Integration of 2D materials (graphene, TMDs) with group III-Nitrides or SiC
Wide-bandgap materials for sensors, MEMS and NEMS
Advanced characterizations (AFM, TEM, optical, electrical,…) of Wide-bandgap materials and heterostructures
List of invited speakers:
Yvon Cordier (CNRS-CRHEA, France)
Martin Feneberg (OVGU Magdeburg, Germany)
Ferdinando Iucolano (STMicroelectronics, Italy)
H.X. Jiang (Texas Tech University; USA)
Birgit Kallinger (IISB Fraunhofer, Germany)
Atsushi Nishikawa (ALLOS, Germany)
Dominique Planson (University of Lyon, France )
Guylaine Poulin-Vittrant (University of Tours, France)
Scientific committee members:
Daniel Alquier (Univ. Tours, France)
Eldad Bahat-Treidel (FBH Berlin, Germany)
Matteo Bosi (CNR-IMEM, Italy)
Didier Chaussende (CNRS-SIMAP, France)
Gabriel Ferro (Univ. Lyon, France)
Filippo Giannazzo (CNR-IMM, Italy)
Philippe Godignon (CNM, Barcelona, Spain)
Peter Gammon (University of Warwick, United Kingdom)
Antonino La Magna (CNR-IMM, Italy)
Mike Leszczynski (UNIPRESS, Poland)

Farid Medjdoub (Univ. Lille, France)
Adrien Michon (CNRS-CRHEA, France)
Teresa Monteiro (Univ. Aveiro, Portugal)
Pawel Prystawko (UNIPRESS, Poland)
Fabrizio Roccaforte (CNR-IMM, Italy)
Sebastiano Ravesi (STMicroelectronics, Italy)
Rositza Yakimova (Linkoping University, Sweden)
Konstantinos Zekentes (FORTH, Greece)
Marcin Zielinski (NOVASiC, France)

 
Symposium Organizers
Consiglio Nazionale delle Ricerche – Institute for Microelectronics and Microsystems (CNR-IMM)

Strada VIII, 5, 95121, Catania, Italy

Department of Physics, Chemistry and Biology (IFM), Linköping University

SE-581 83 Linköping, Sweden

Institute for Technical Physics and Materials Science,

Centre for Energy Research,

Hungarian Academy of Sciences (HAS-MTA)

1121 Budapest, Konkoly Thege 29-33 Hungary

Institute of High Pressure Physics (UNIPRESS)

Polish Academy of Sciences 

Sokolowska 29/37, 01-142 Warsaw  Poland