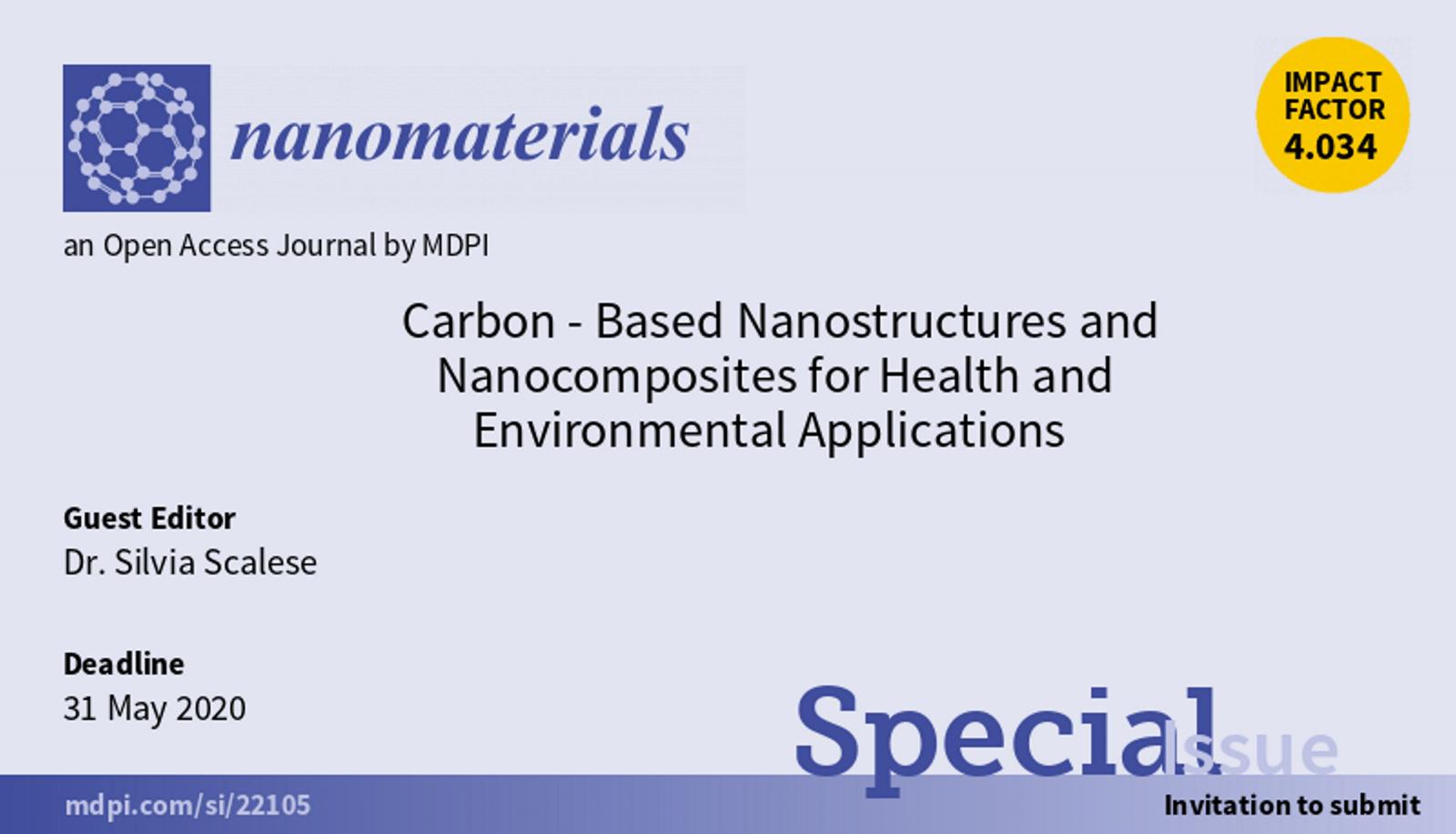 Open Call for a Special Issue: "Carbon-Based Nanostructures and Nanocomposites for Health and Environmental Applications"
A special issue of Nanomaterials (ISSN 2079-4991) - Impact factor 4.034
Guest Editor:  Silvia Scalese
Deadline for manuscript submissions: 31 May 2020
https://www.mdpi.com/journal/nanomaterials/special_issues/carbon_nano_health_environ
Special Issue Editor
Guest Editor
Dr. Silvia Scalese
Consiglio Nazionale delle Ricerche - Istituto per la Microelettronica e Microsistemi (CNR-IMM), Catania, Italy.
Special Issue Information
Dear Colleagues,
currently, nanomaterials and nanotechnologies are innovating many aspects of our daily life. The size reduction of materials gives them unique properties that, if suitably exploited, allow to groundbreaking results to be obtained in several application fields. In particular, health and environment are fields where the use of nanomaterials has provided an important contribution—for example, in gas or bio-sensors, theranostics, air and water pollution removal, renewable energy production, and so on. Among nanomaterials, carbon nanostructures and related nanocomposites are important and are extensively studied.
This Special Issue aims to collect manuscripts dealing with the use of carbon nanostructures (e.g., carbon nanotubes, graphene, graphene oxide) alone or in combination with other nanomaterials (metallic or semiconductor nanoparticles) or even as a part of polymeric nanocomposites, focused on health applications or to solve different environmental issues. Subjects that fall into the scope of this Special Issue include: functionalization methodologies of carbon nanostructures; the preparation of carbon-based nanocomposites; electrical and structural characterization; physico-chemical interaction with gases, contaminants or bio-markers; adsorption and/or filtration properties; and photocatalytic properties.
Manuscripts can be submitted in the following formats: full research papers, communications, and reviews.
Dr. Silvia Scalese
Guest Editor
Keywords
carbon nanostructures
nanocomposites
synthesis and characterization
surface functionalization
photocatalytic and adsorption properties
sensing applications
water and air purification
materials for water splitting
health applications
environmental applications