Primary tabs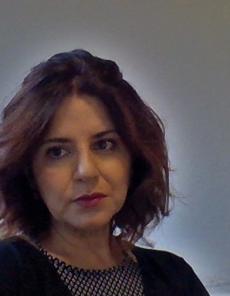 Activity:
Scientific interest and expertise are in the field of materials science focussing on the fabrication and characterization of nanostructured semiconductors and polymer nanocomposites for optoelectronics, photonics and sensing. In particular the main topics are
- Silicon nanowire for plasmonic, Raman, electrochemical biosensensing/diagnostic and as live cell interface (2010-present);
- Si, III-V and II-VI compound semiconductors based nano-structures fabricated by bottom-up approaches for opto-electronics, photocatalytic, photovoltaics (1994-2010);
- Composite polymers for chemical sensing (1999-2008);
- Design and fabrication of dielectric multi-layered structures for optical coatings and photonic crystals (1994-2000).
Curriculum:
Ph.D. in Physics in 1999 and Laurea in Physics in 1994 at the University of Bari (Italy). Since 2001 permanent researcher at the National Research Council (CNR) and in 2008 she joined the Institute for Microelectronics and Microsystems of CNR, Unit of Rome. In 2019 visiting researcher at the Department of Mechanical Engineering of the Johns Hopkins University of Baltimore (USA) within the Short Term Mobility program of the CNR. From 1999 to 2001 tenure track at the Institute of Material Chemistry of the CNR. In 1998 visiting Research Fellow at Laboratoire Central de Recherches-Thomson CSF, Orsay, France. Co-Principal investigator of Collaborative Linkage Grant in the NATO Programme Security trough Science "Creation of the PTFE NanoComposite Optical Sensor for Aggressive Matter" (2007-2009). Responsible for IMM Rome Unit of the project "Advanced nano-structured material interface and devices for in vivo-like-in vitro monitoring of astrocytes physiology and brain toxicology (Astromat)" funded within the Air Force Defense Research Sciences Program (2017-2018). Principal Investigator of the joint project "Scalable nano-plasmonic platform for differentiation and drug response monitoring of organ-tropic metastatic cancer cells" within the Scientific and Collaboration Program Italy-USA (2019-2021) of the Italian Minister of Foreign Affairs and International Collaboration (MAECI). In the member team of several national and european project. She has co-authored more than 65 papers on international journals. Vice Chair for H2020 FETOPEN 2015/2, Expert Evaluator for H2020 Fast Track to Innovation (FTI) Pilot-2016, H2020-FETOPEN-2014-2015-RIA_H2020 FETOPEN 2015/1, Expert Reviewer for EU-FP7 specific programme: Research projects for the benefit of SMEs, Rapporteur for the Italian Ministries of Economic Development (MISE) and Education University Research (MIUR), and Expert-Reviewer for the Romanian Minister of Education and Science CNCS.